Domains & Hosting
Let us take care of your needs with combined hosting and domain registration services. Unlimited bandwidth and disk space combined with a range of extras for your website.
From unlimited bandwidth, web space and email accounts to Google Powered Email Hosting for SMEs.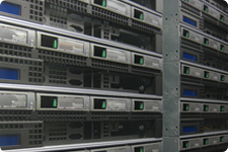 We operate as experienced webmasters as well as hosts and registrars for your domains. We offer a direct and personal service via email or over the phone for anything you may need. We will find and register domain names and setup hosting with a range of options with nothing more than a telephone call.
It is our pleasure to be caretakers for your domain registrations, web hosting, email accounts and FTP details. Whatever your needs, we are able to take your queries over the phone and help you set up new email addresses, change your FTP details, upload new content and make amendments. Whatever your needs, let us know what you want and we will discuss our fees and options and then get started with the task of caring for your online assets.
Register a new domain
If you're the sort of person who dreads adding another set of username and password accounts to the list of accounts you already have to remember, just to manage your domain names and hosting, don't worry. Managing your domain over the phone with Search First is just the thing you need. Use us as your domain and hosting administrators and register new domains with nothing but a phone call.
Move all your domains to us
If you like our service, why not move all your domains under the care of Search First? No transfer-in fee.
Check out our domain registration list below
Email Addresses
Create an unlimited amount of standard mailboxes (with up to 50MB storage) accessible from webmail or your preferred email client (Search First recommends Thunderbird.) If you're looking for a service with more advanced options:
Roaming SMTP
iPhone & Blackberry support
Secure storage & backup protection
7GB storage per mailbox
then take a look at our Google Powered Email Hosting package.
MySQL Databases
Run content management systems, product catalogues and more with a MySQL database package…Read on
CMS Hosting
If you want to register/transfer your domain with us and host your site with us, but you are worried that we can't accommodate you, don't worry. We can accommodate a range of CMSs and it just takes a phone call to find out.
| | Register | Transfer |
| --- | --- | --- |
| .com | Yes | Yes |
| .net | Yes | Yes |
| .org | Yes | Yes |
| .biz | Yes | Yes |
| .name | Yes | Yes |
| .info | Yes | Yes |
| .tv | Yes | Yes |
| .mobi | Yes | Yes |
| .co.uk | Yes | Yes |
| .org.uk | Yes | Yes |
| .ltd.uk | Yes | Yes |
| .plc.uk | Yes | Yes |